Here's the bottom line: If you can afford to run a business and pay your electricity bill, you can definitely afford the cost of a commercial solar power system.
Commercial Solar systems are ideal for Australian businesses where power usage is high compared to household usage. Unlike household and small businesses where a decent off-grid solar power system can be used, big industrial setups and business use commercial solar system that matches their commercial needs. Most businesses operate from 9 am- 5 pm, thereby using their vast majority of electricity during this time frame. A Solar power system would work marvelously in which a set up as the panel will get enough sunlight for power generation.
Where household systems are totally off-grid and independent, commercial systems grid-tie inverters match with arrays of larger solar panels which delivers power for:
Various kinds of commercial applications

Remote traffic controls

Telecommunications

Oil and Gas Industry applications

Large Schools and other businesses
It is extremely important to opt for quality commercial solar panels and inverters for any commercial solar system owing to the fact that the amount of money spent here is relatively higher. Cheap panels that are prone to fail will only leave you with disappointment. Hence, it is crucial to determine the right Commercial Solar power system suitable for your business.
Commercial Solar PV Panels System: Sizes Available In Perth, WA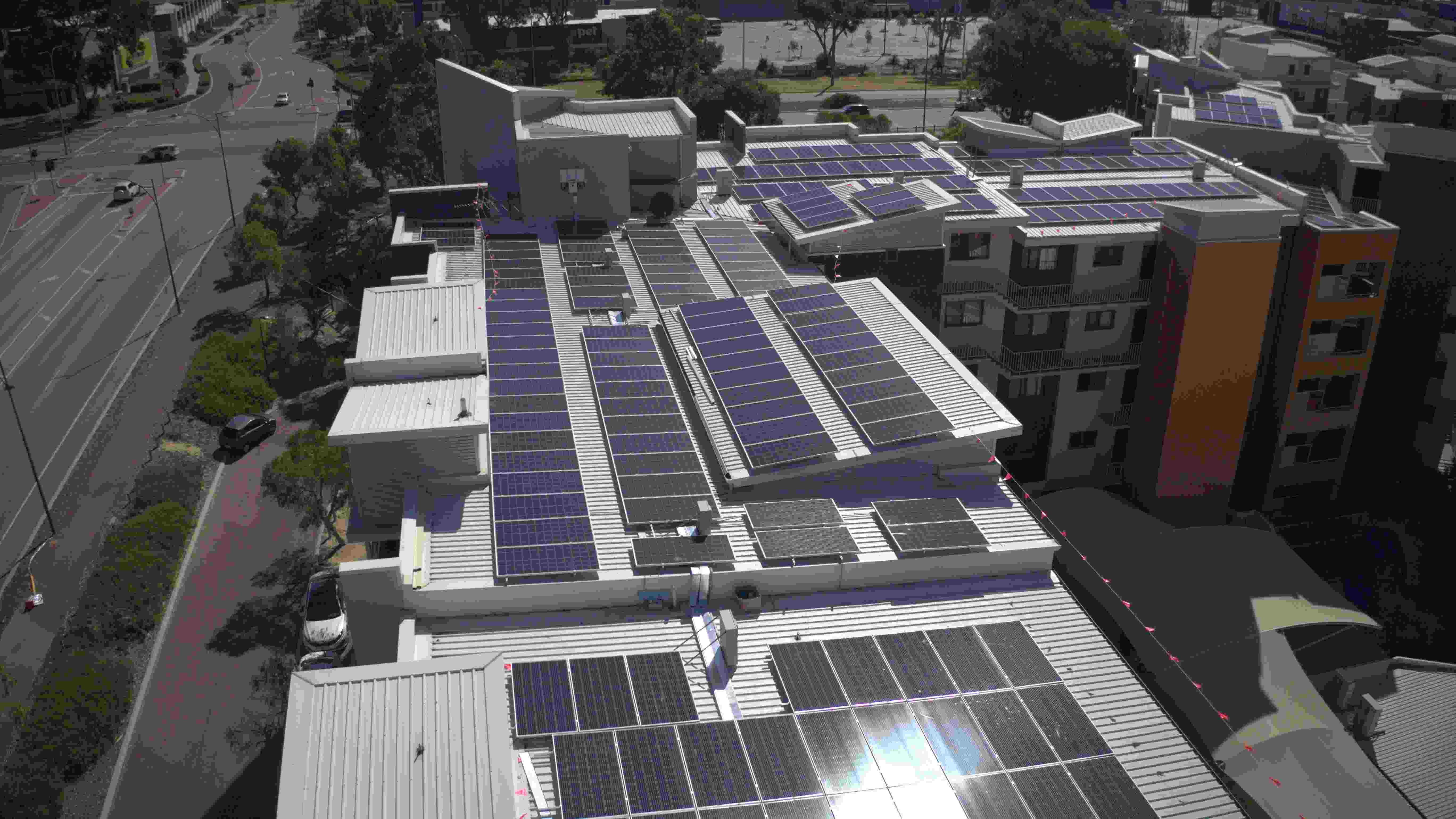 20 Kw Solar Panel/ Power System
A 20kW Solar Power System has now become increasingly captivating for small and medium-sized businesses across Australia looking for reducing their operating costs by using solar power for day time electricity consumption. Thanks to the Government's rebate on 20kW solar panels which makes it very economical for you.
30 kW Solar Panel/ Power System
30kW Solar Panel also comes under the same utility category of 20kW applicable to small and medium businesses. Obviously, it is bigger in size and slightly higher in price. At the same time, more efficient and more generation of power.
40 kW Solar Panel/ Power System
A 40kW commercial solar PV system is one of our trusted sized systems for a high return on investment and rapid payback for commercial solar clients. It can cater to around 170-190 unit consumption per day. Best suited for businesses with a medium energy usage of annual bills of around $20,000.
50 kW Solar Panel/ Power System
A 50kW Solar panel featuring approximately 185 solar panels can save you tens and thousands of dollars per year potentially without any upfront costs. They are often less expensive per watt than a small system installed on rooftops. These systems are equipped to work out to a total of about 200kWh of solar energy per day for your businesses.
100 kW Solar Panels/ Power System
For highly energy-intensive businesses, like manufacturing facility or a large office building, a 100kW commercial solar power system will be the best option. 100kW is also one of the most popular commercial solar panel sizes due to the incentives are given by the federal government. The prices have also fallen over the years which ensure high productivity and great warranty period. So, be sure your money will go waste. You will not only save in your exorbitant electricity bills but also be rest assured that of full-time electricity availability.
Commercial Solar Panel/ Power System:
Price and Size Comparison Chart
| | | | | | |
| --- | --- | --- | --- | --- | --- |
| Commercial Solar Panel Size | Price | No. Of Panels | Power Generated/ Units per day | Payback Period | Suitable for |
| 20kW | $21,000-$35,00 | 70-80 | 80-90 | 3-5 years | Low to medium energy usage business with an annual bill of $ 10,000 |
| 30kW | $32,000- $55,000 | 120-140 | 110-180 | 3-5 years | Medium energy usage businesses with an annual bill of $15,000. |
| 40kW | $42,000- $71,000 | 150-160 | 170-190 | 2-5 years | Medium energy usage businesses with an annual bill of $20,000. |
| 50kW | $52,000- $80,000 | 180-195 | 200-280 | 3-5 years | Fairly large energy usage businesses with an annual bill of $30,000 |
| 100kW | $130,000- $200,000 | 380-410 | 430- 480 | 3-5 years | High energy usage businesses with an annual bill of $47,000 |
A Buying Guide Checklist for Commercial Solar Panel/ Power System In Perth, WA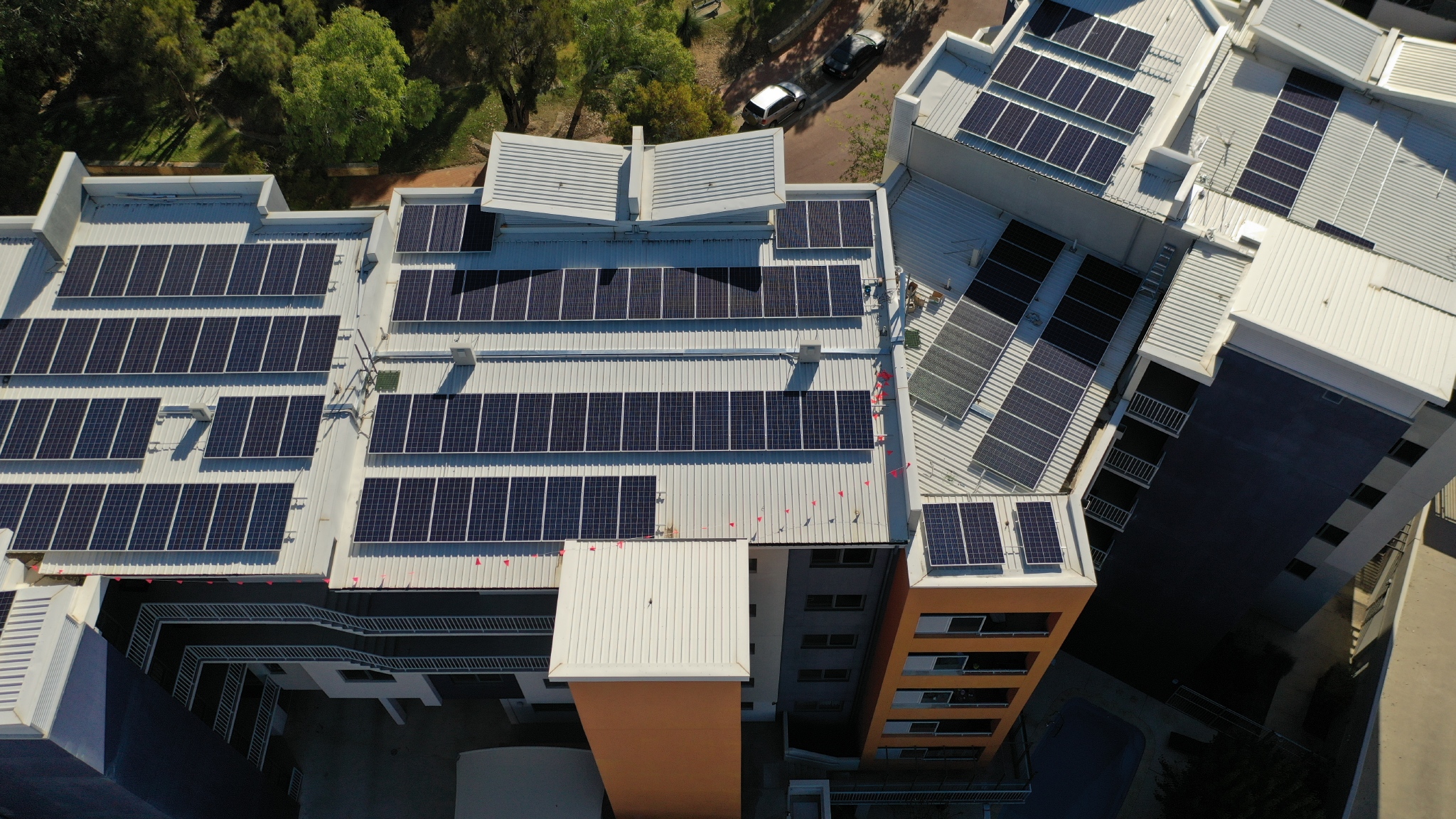 This commercial solar guide checklist will provide you with the right deciding factor when you are about to invest in one. Here's what you need to know before you get quotes for solar for your business:
1. Major Size Breakdown
A detailed table of which provides price, no. of panels and power generation as per your commercial needs has been given above.
A 20kW system uses the same hardware and fall under the same grid connection system as a residential system. It means that installers that can usually handle business-sized setups to this level of setups as a 'specialist' would not be required.

Solar system ranging from 30-100kW require special systems to provide protection to the grids from all the electricity they generate. You may also need special permission from your local electricity network to connect to the grid. A well-known commercial solar system specialist is highly recommended for a business system of such large size.
2. Connecting Large solar power systems to the grid
In installing any solar power Perth system above 30kw capacity, approval from the network provider is essential in Australia. You must obtain a formal copy of the approval and seek independent consultant as in such large investment, nasty surprises are better avoided.
3. Monitoring and Maintenance
Make sure you buy a solar system that monitors both energy generation and electricity consumption. This shall help you with keeping a check on your post solar bills.
4. Commercial solar rebate
For solar panels up to 100kW, you will be eligible to claim STC (Small- scale Technology Certificate), the rebate for which is paid in advance and works as an upfront discount on your system.
5. Solar Designs and Layouts
Weight is a very important factor when it comes to installing a commercial-size solar array on roofs. It is important to get a structural engineering certificate and have an engineer physically inspect the site. A detailed roof plan must be shown to you before installation.
6. Commercial Solar Contracts
Australian Consumer Law gives consumers an arsenal of legal protection against poor solar installations applicable to goods and services worth less than $40,000. The Contract law would cover larger systems, over $40,000.
7. Batteries
While it certainly depends on the unique needs of the business and the amount of consumption, battery usage is more unattractive.
Commercial Solar Panel: Installation, Repair Standards and Warranties In Perth, WA
| | | | |
| --- | --- | --- | --- |
| Solar Panel Size | Installation | Standards | Performance Warranty |
| 20kW | Flat Panels + inverter | Roughly 100-136m2 roof space | Roughly 25 years |
| 30kW | High-efficiency solar panel, inverter, mountings | 200m2 roof space | 25-30 years |
| 40kW | Panels, inverters, mountings, batteries (if required) | 256m2 roof space | 25 years |
| 50kW | Panels, inverters, mountings, batteries (if required) | 300m2 roof space | 25-30 years |
| 100kW | Panels, inverters, mountings, batteries (if required) | 656m2 roof space | 25-30 years |
Choose Us for Commercial Solar Power Panels/ Power System in Perth WA?
We are Australia's best solar solutions. What makes us the best? Our wide range of products and cost-effective consultancy makes sure the customer is satisfied. We provide various finance options to suit your business needs. We offer state of the art solar panels, investors and mountings approved according to Australian standards. Our customer service shall be at your constant disposal to ensure a good post-purchase experience. Our quality products will fulfil your commercial need for renewable energy. Life will be easy if you put your trust in us and choose us for your commercial solar panel system.
Frequently Asked Questions: Commercial Solar Power/ Panel System In Perth Western Australia
1. What size commercial solar panel system do I need?
The size of your solar panel will depend on your usage, available roof space and other factors which have been covered in the above section. Kindly go through them and remember to determine your power usage to accurately select a size.
2. How much money will I save using a commercial solar power system in Perth, WA?
The cost analysis mentioned the table includes installation, associated warranties. The savings also depend on how efficiently you use the power generated.
3. What is the Average Cost of a commercial solar power system in Perth, WA?
The cost shall depend on the size and quality of the solar system. On average it is $1.16 per watt in terms of solar panel systems in Australia.
4. Which direction should my commercial solar panel face in Perth?
The direction of the solar panels should ideally face according to sun exposure. For, Australia, solar power yields are higher when panels face north. All southern hemisphere locations prefer positioning their solar panels in a northerly direction.  In case your property is facing the Northern hemisphere, the panels will work best if faced south.  Along with the direction the solar panels face, the right angle or tilt orientations are vital inputs to accurately calculate usage and consumption.
5. Does my commercial solar panel system meet standards in Perth, Western Australia?
In Australia, specific standards have to be met requiring proper earthing of solar array mounting, proper connection of solar panel frames to the mounting frames, panels electrically bonded to the frame and the entire mounting frame should be earthed using the heavy-duty cable as prescribed by Australian Standards. Making sure the proper standards are met will be a wise choice to make when the investment is high.